FLAG POLE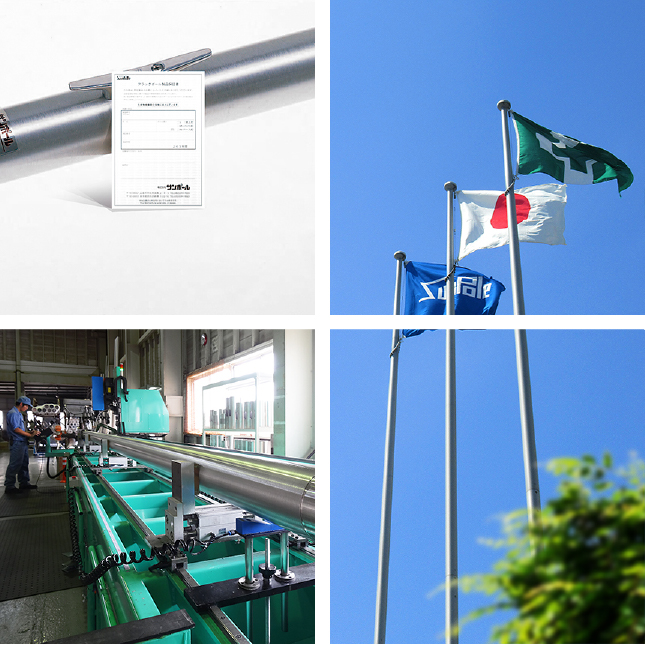 With our utmost consideration of manufacturing the finest quality landscape products and providing unpararelled service to customers since 1970, Sunpole Co., Ltd. has been recognized as number one "Landscape products creator" in Japan.
Regard of the quality of our aluminium, it is equal to JIS 6000 or higher which is high grade aluminium, well applicable for the area like Japan where surrounded by ocean and often struggled with natural disasters such as typhoon.
Our head office is located at the shore side in Hiroshima province, Japan. It is our advantages to have constructively products testing to ensure our products quality before delivery.
One of among those advantages about our products is the wide variety of product designs and functionalities that we offer. We focus on the customers most personalized experience.
In addition to Japan market, we have internationally exported our products under Sunpole Co., Ltd. Furthermore, in 2017, we have explored the potential markets and expanded our business by taking over the fiberglass flagpole company, European Flagpole Co., Ltd., in Thailand where it is a potential hub of South East Asia in order to widen our networks and strengthen our positioning as a Japanese-standard "Landscape products creator." This is a significant action that advance further our company in the region and beyond.
LIFTER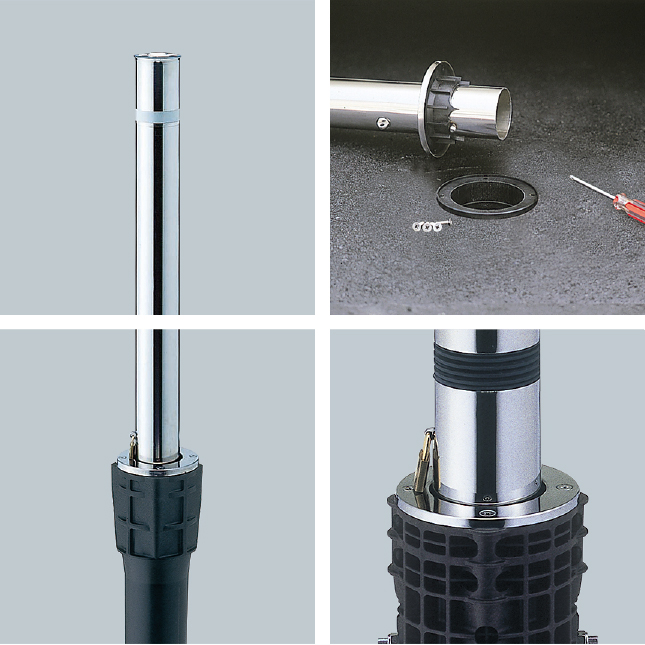 The perception of convenience is as important as the innovative designs and product quality, Lifter is thoroughly crafted.
Lifter is distinctive. It is different from other bollards. The exceptional design captured from customer's demand of the product diversity.
Lifter can be completely stored underground and lifted up when it is functioned to manage the area (car, bike, bicycle and human).
The major material is stainless, sizing from 48.6 mm. to 216.3 mm. It can be fitted to designated areas and any particular places.
The lifetime is as long as the flagpole which the lifter itself is replaceable in case of damages from car or bike crashed without any foundation works (Only if the foundation is done in accordance with the company's standard).
Lifter requires least maintenance. Moreover, it is difficult to destruction.
BOLLARD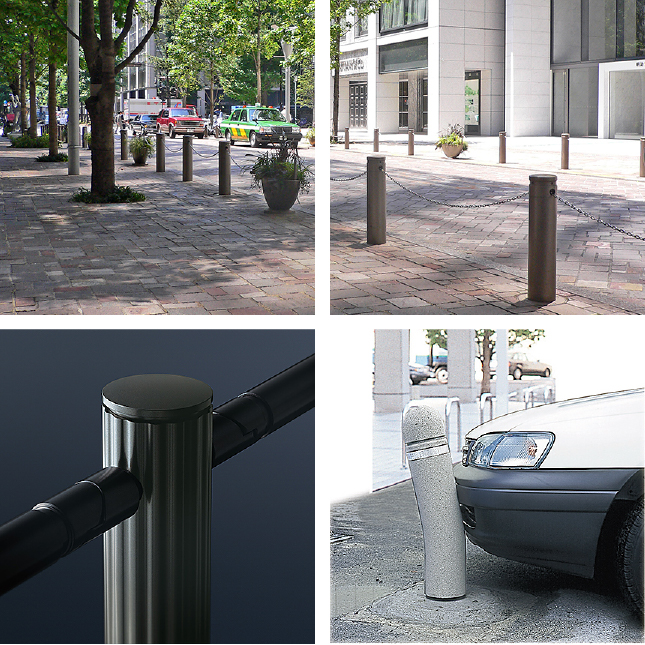 Bollard is not only just a hardware equipment for traffic works or managing areas but also designed to help transform the areas by offering the variety of innovative designs and products colors delivering landscape attractions.
We offer colors and material variation. Hard materials include steel, aluminium and stainless. Soft material, like Polyurethane, purposes to cushioning the impact of crashing.
We also approach to materials that are not harmful to the environment and environmental concern. Recycle materials are utilized such as recycle rubber and plastic.
Collection of bollards is presented in different types according to the installation matters such as Lifter, Fixed, Based, Removable.
OTHERS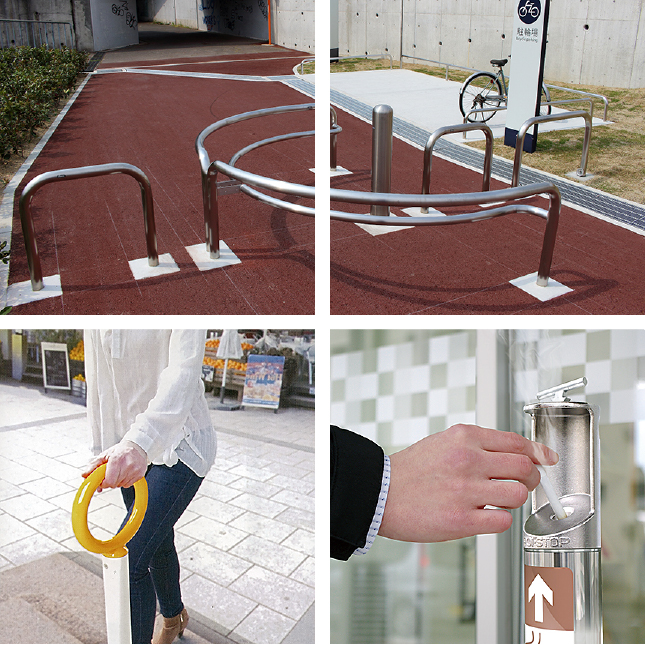 Apart from flagpoles and bollards, we are attentively presenting accessibility and universal design in landscape products refered to the idea meant to produce products that are basically accessible and convenient to users regardless of their age, size, ability or disability.
・Wheelchair Gate : The key design is to accommodate wheelchair users, moreover, the bike will be unable to pass through. We are the 1st manufacturer launching this product in Japan.
・Escort Arch : It refers to facilitate service visual impairment users to direct to the certain directions.
・Support Pillar / Slope Arch : It is for supporting users during slope walking. Besides, it can be installed as handrails for stairway or pedestrians path.
・Step Slope / Wheel Ramp : It is friendly for users who have difficulty to use step.
・Camera Stand / Selfie Stand : The fixed camera stand helping tourists snap photos of themselves. The stands provide tourists a place to put their cameras or smartphones.
・Poi-Stop : The innovative design helps fixing the pain point of the conventional smoking stand; the cigarette can be extinguished easily by itself by dropping into it, it also helps reducingthe problem of trash from cigarette butts. The outstanding design makes well appropriated to any places.
Please feel free to let us know if you are interested in any particular products or require information even not mentioned in the catalogue e.g. size, design, color or your personalized designs. It is our desire to serve and keep you satisfied with our services and products.
Our mission is to provide our customers superior landscape products that will help transform the areas into more decorative and organized. We are always working to achieve the highest level of customer satisfaction.